---
Why Garden at Home
BENEFITS
Cost savings
Requires movement that makes us healthier
Soil, water, sunshine and air can improve our mental health and wellbeing
Intergenerational interactions – people of all ages can come together to garden
Beautifies spaces
Builds self reliance and resilience – Learn how to feed ourselves so we don't have to rely on others
When you grow your own food you are more likely to eat the fruits and vegetables you grow! Growing food can help you eat the recommended number of fruits and vegetables by:

Saving you money – they become more affordable
Helping you know where your food comes from
Helping you grow vegetables that are the most nutrient dense like leafy greens
Helping you always have fresh fruits and vegetable on hand for you to eat

Let us know why you like gardening! chicagogrowsfood@gmail.com
Preparing to Set Up Your Space
The size of your space and your budget will determine how much food you can grow and which way to grow makes the most sense.
TOOLS
Hand tools: shovel, rake
Twine, stakes and plant cages
Hose and nozzle or watering can
Gardening gloves (optional)
Wheelbarrow, tarp, or large bin for mixing soil (optional)
Keep tools clean and store them properly so they will last for longer
ASSESS SUNLIGHT AT YOUR SITE
Full Sun
Partial Sun / Partial Shade
6 full hours of direct sunlight

Those six hours could be from 9am – 3pm or 12 – 6pm;

Full sun crops: include tomatoes, squash, peppers, eggplants and cucumbers
3-5 hours of sunlight each day

Partial shade means morning and early afternoon sun

Requires relief from intense sunlight in the afternoonShade can be provided by a structure or a tree

Part sun/part shade crops: chives, cilantro, leafy greens, parsley, peas, scallions
Full Shade
Dappled Sun
Less than 3 hours of direct sunlight each day, best if it's morning light

Even in the absence of direct sunlight, full shade can be a bright light

These crops will bolt in full sun; shade allows them to grow in hotter weather

Shade crops: broccoli, carrots, cabbage, beets, and some greens such as spinach and lettuces
Dapple sun is similar to partial shade.

Plants get partial sun as it makes its way through the branches of trees.

Dappled sun crops: beet greens, cabbage (small head varieties), endive, leeks, lettuce, radishes, spinach, turnip greens
ASSESS WATER AT YOUR SITE
Plants get water from rain or from us providing it
Always consider where you will get water from before establishing your garden
Check your seed packets or seedlings information for water requirements
Containers will dry out more quickly than raised beds and in-ground gardens
Types of Gardens
CONTAINER GARDENS
Container gardens, including grow bags like those in your Grow Your Groceries kit, are one way to grow food.
Just a few bags or containers can yield a nice amount of food
Containers must be food grade (i.e. restaurant buckets, grow bags) or you could ingest plastic unknowingly
Can be moved as needed
If you rotate crops, you can grow a variety of fruit, vegetables, and herbs in just a few containers
RAISED BEDS
Raised beds are another way to grow your own food.
While they might allow you more space to grow, they require more space and cannot easily be moved
Raised beds are more expensive to set up
IN GROUND GARDENS
In ground gardens are one other way to grow your own food
In ground gardens may allow you more space to grow but cannot be moved
In Chicago and the surrounding areas, soil is often contaminated so you must get a soil test before your grow in-ground or you could be exposed to toxins
Soil Testing Resources
| | | | |
| --- | --- | --- | --- |
| Organization | Address | Phone number | Cost for home gardeners |
| Stat Analysis Corporation | 2242 W, Harrison, Suite 200 Chicago IL 60612 | (312) 733-0551 | $60.00 |
| A&L Great Lakes Laboratory | 3505 Conestoga Drive, Fort Wayne, Indiana 46808 | (260) 483-4759 | Depends on type of tests. See costs here. |
In-ground vegetable gardening is discouraged

Chicago is a rust belt city. The rust belt is where industries were located in the United States, and as a result these places often have soil polluted with heavy metals including lead.
Soil testing is required to determine heavy metal presence and concentration
In addition to learning about pollutants, soil tests can help you determine the quality of your soil

Soil testing resource for contamination

Stat Analysis Corporation | 2242 W, Harrison, Suite 200 Chicago IL 60612 | (312) 733-0551 | The test for homeowners and home gardeners is $60.00
PROS & CONS
The table below compares the pros and cons of the different methods of growing.
Container Gardens
Raised Beds
In-Ground Gardens
Pros
– Convenient
– Avoids contaminated or low quality soil
– Grow in any location
– Extend growing season
– Accessible for kids, people with disabilities
Allows plants to cohabitate together
Fewer initial start up costs (if you're soil is okay to begin with)
Cons
– Not suitable for all plant varieties
– Need to make sure container is food grade
More resource intensive to set up
Not portable
Need to soil test before you can grow
Decide What You Want To Grow
Considerations: required container sizes, seasonality, sunlight, nutrient density, food preference
WHAT TO GROW & WHEN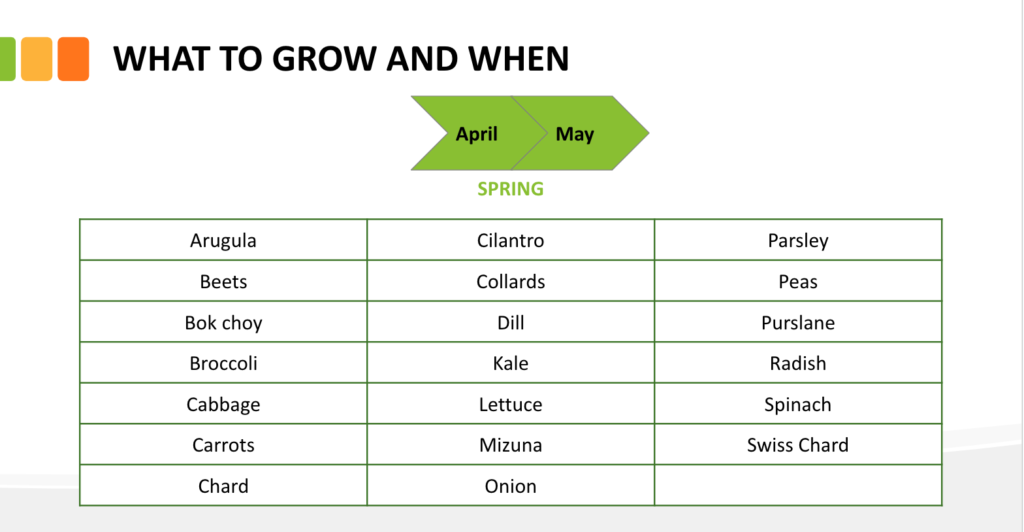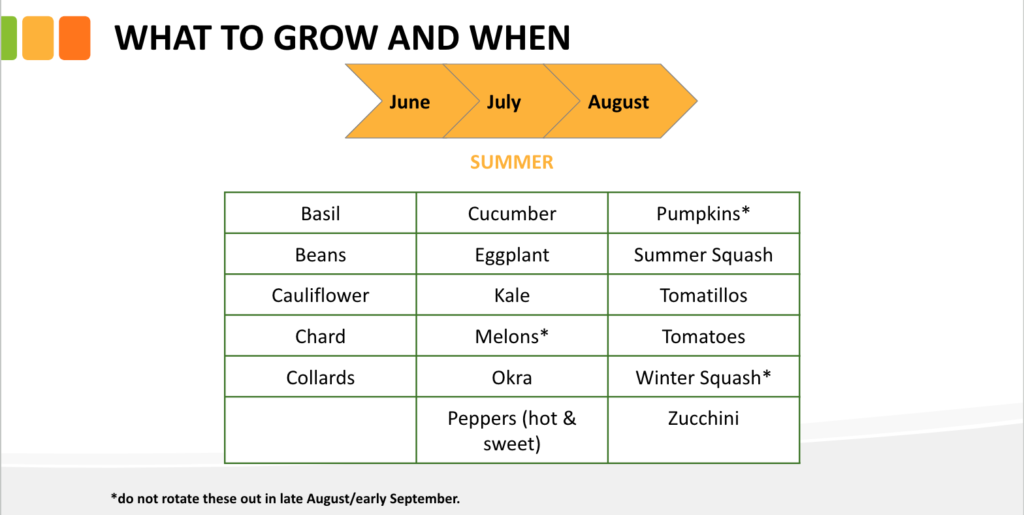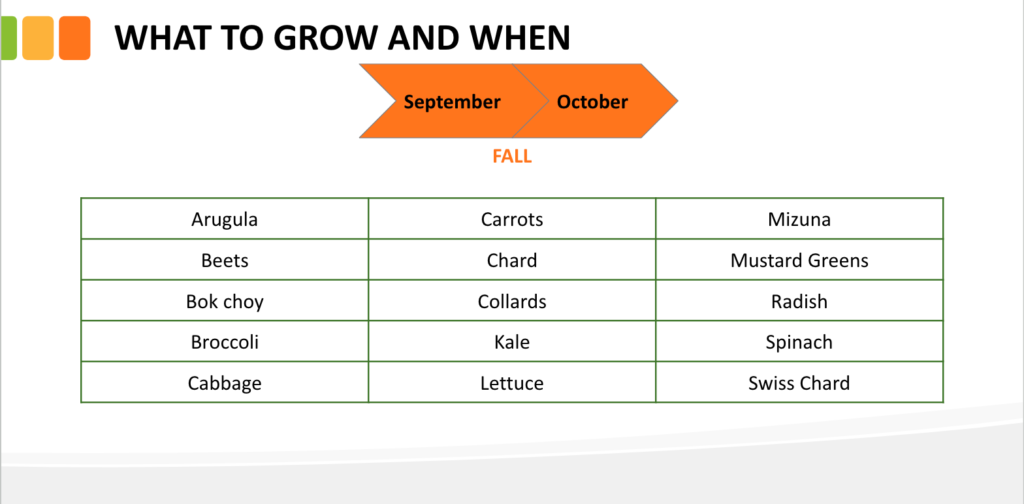 CONTAINER SIZES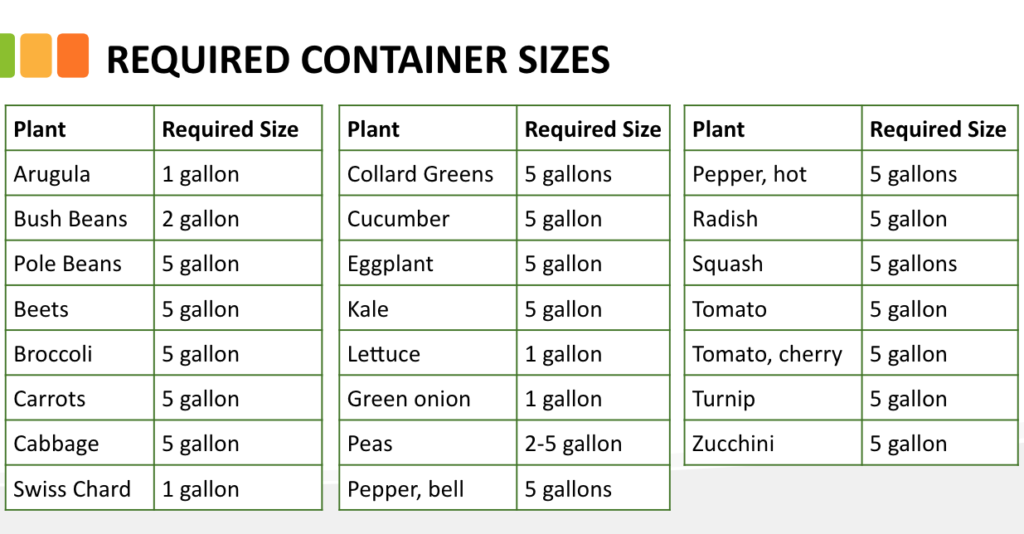 SUNLIGHT REQUIREMENTS for CONTAINER PLANTS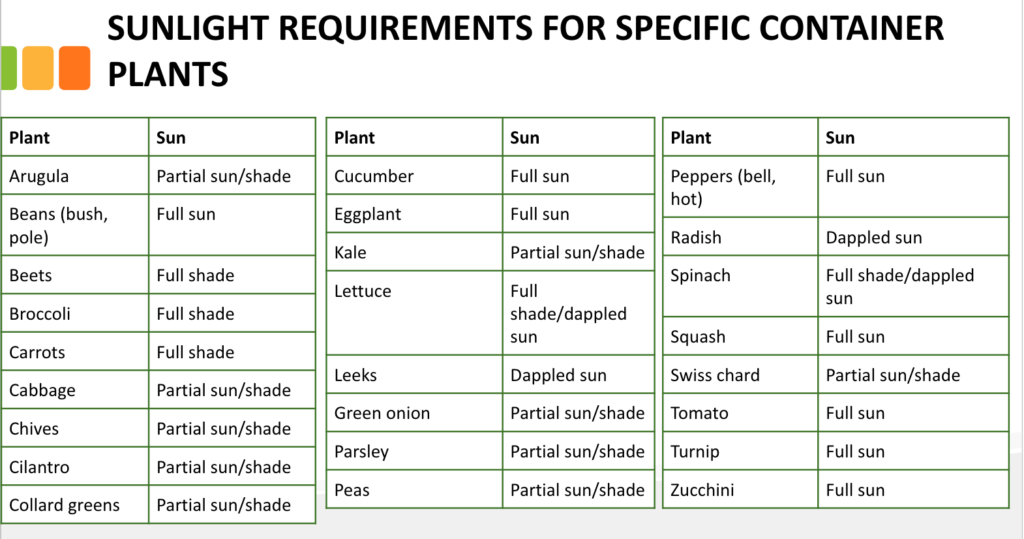 POLLINATORS & NATIVE PLANTS
Pollinators like bees, butterflies, moths, beetles, flies, and hummingbirds increase the health, fertility and productivity of our garden
Pollinators are responsible for 70% of the food we eat
Include plants around and within your garden to attract pollinators
More information here: https://www.chicagobotanic.org/pollinators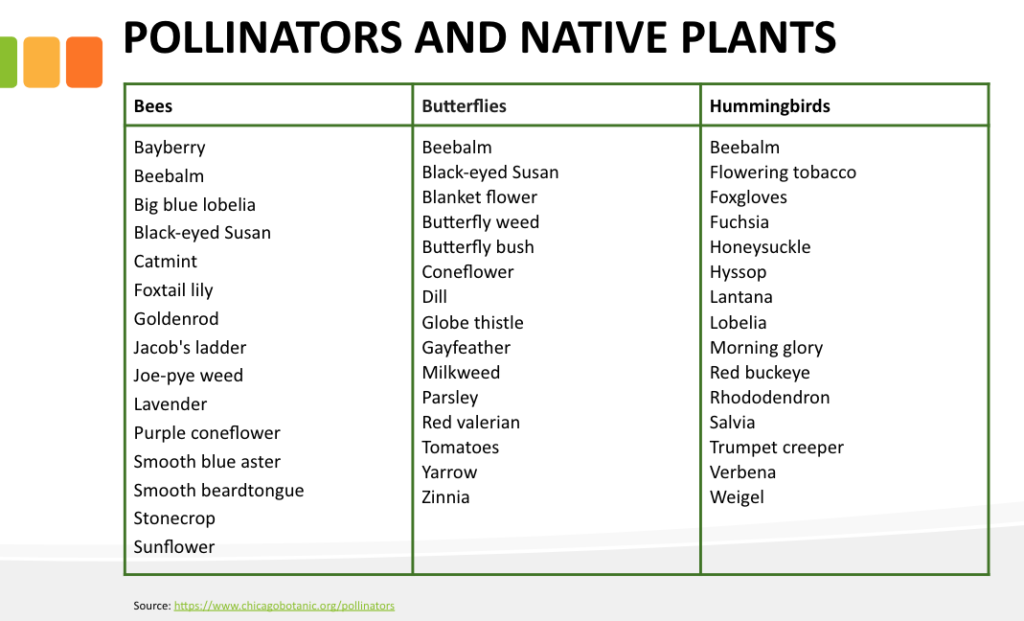 Set Up Your Growing Space
Construct raised beds as needed
Obtain grow bags or containers
Purchase or make your own soil
Add fertilizer
WHERE TO PURCHASE
Big Box Stores
Home Depot and Lowe's offer gardening supplies such as tools, seeds, seedling and potting soil mixes
Grocery Stores
Jewel Osco, Whole Foods and Dill Pickle Co-op often have garden centers during the main growing season. Check to see if they allow folks to use SNAP benefits to purchase seeds and seedlings
Local Garden Centers
Offer gardening supplies and staff are often very knowledgeable
Recommended locations: Growers Outlet Co., Adams and Sons, Farmers' Market Garden Center; Gethsemane Garden Center (more expensive!); Christy Webber Garden Center
Farmers' Markets
Farmers' markets will often have seedlings at the beginning of the growing season. The farmers will be knowledgeable about requirements for the plants. Check to see if they allow folks to use SNAP benefits to purchase seedlings
SOIL
What Is Soil?
Soil is a living thing
A mixtures of minerals, water, air, organic matter, and countless organisms
Forms the "skin of the Earth"
How Does Soil Form Life?
Provides nutrients to plants
Absorbs water, which plants can access through their roots
Sources: Dr. Akilah Martin from the School of New Learning at DePaul University, https://www.soils4kids.org/about, http://whitefeatherarts.com/event/mother-earth-healing-prayer-circle-3/
Soil for Container Gardens
You must purchase or make your own soil blend specifically for containers – topsoil will not be suitable

Make your own soil recipe

Supplies: measuring container, shovel or trowel, large garden tub, wheelbarrow or tarp, water (if ingredients are dry)
"Ingredients": 2 parts premoistened coco coir (or more peat moss), peat moss or potting soil; 2 parts composted soil or composted manure; 1 part perlite; ¼-½ parts vermiculite
Instructions: Fill your measuring container the correct number of times for each ingredient (i.e. 2 coco coir, 2 compost, 1 perlite, ¼ vermiculite)

Fill containers almost to the top since soil will settle over time
FERTILIZER
Soil that has compost added to it may not require additional fertilizer
Too much fertilizer is not better, so go light
Apply an all purpose organic fertilizer

You can purchase this at a garden center
Ask local garden center or U of I Extension for help selecting one if needed
Image source: https://www.motherearthnews.com/organic-gardening/garden-fertilizer-zmaz06jjzraw
Plant Seeds or Seedlings
Tending To Your Garden
WATERING
Water daily for most systems unless it has rained
When watering, water at the base of the plant to avoid getting leaves wet, which attracts pests
Water early in the day or in the evening
PESTS & PESTS CONTROL
Pests are not always bad – they are part of the natural ecosystem
Having too many pests can be a problem
Common pests: aphids, army worms, asparagus beetles, earwigs, psyllid leaf hopper, root maggot, spider mites, tomato hornworm
Methods to control pests

Remove dead leaves and leaves that are touching the soil to deter pests
Water at the base of plants to deter pests
Remove pests by hand if appropriate
Use organic methods to control pests when needed
Image source: http://www.garden365.com/container-gardening/organic-garden-pest-control/
Pest Control

WEEDS
Weeds are part of the natural ecosystem, but should be removed because they will compete with your plants
You must remove the weed at the root or it will grow back
COMMON PLANT CONDITIONS
Blossom End Rot
Cause: not enough calcium in the soil OR inconsistent watering
Plants affected: Tomatoes, peppers, eggplant, squash
Solutions:

Water plants regularly
Select plant varieties that are resistant to blossom end rot
Test your soil to see if you need to add calcium
Avoid damaging roots by staking or digging near mature plants
Image sources: https://www.almanac.com/pest/blossom-end-rot; https://pender.ces.ncsu.edu/2020/03/why-are-my-squash-rotting/
Powdery Mildew
Cause: fungus
Plants affected: Cucumber, Zucchini
Solutions:

Cut off diseased leaves
Apply Potassium bicarbonate, Milk, Neem oil, Vinegar, Baking soda, Garlic, Sulfur, or Copper fungicides
Image sources: http://frontrangefoodgardener.blogspot.com/2010/08/telling-powdery-mildew-by-its-spots.html
HARVESTING CROPS
Don't assume that bigger is always better when it comes to gardening.

Often times plants and vegetables have the fullest flavor at their smaller sizes
Texture, tenderness, and taste are compromised when vegetables are not harvested at their peak ripeness

Check on your plants daily to ensure that they don't become oversized.
Harvesting doesn't mean uprooting an entire plant from the soil

Pick and come back method: Pick outside leaves from lettuce, kale, and collards, leaving the small inside leaves to continue growing
Fruit from tomatoes, cucumbers, zucchini, squash, and eggplant should be picked directly off of the plant's stem
Herbs should be cut at the nodes, where the stems of the plant intersect

Use a clean shears or scissors to harvest
Resources
PRINT RESOURCES
Farming While Black, by Penniman, Leah, Chelsea Green Publishing (October, 2018)
The Kitchen Garden Growers Guide, by Albert, Stephen, Stephen Albert Publishing (November, 2011)
Vegetable Gardener's Container Bible, by Smith Edward C., Storey Books (February 2011)
Vegetable Container Gardening: A Quick Start Guide (Gardening Quick Start Guides Book 3), by Green, Martha, CreateSpace Independent Publishing Platform (June 2014)
Preparing For Next Season
Document where you planted what during the current growing season – you will need this to plant crop rotations next season
At the end of the season, remove plants including roots and plant debris from containers to reduce chances of overwintering disease
Add ½ to 1 inch of compost to the top of soil and mix in gently
Cover garden space with leaves or straw (optional but helps to prevent soil erosion)
Plan crop rotations – don't plant the same things in the same spot

Keeps soil healthy – different plants need different nutrients
Prevents plant-specific diseases from transmitting if they overwintered in the soil
Grounding Yourself
The Gardeners Journey
Even if we follow the planting instructions, sunlight requirements, and feed and water our plants…
Gardening is a journey, be patient and be willing to learn from your mistakes
Find your support network
…Remember the seeds and seedlings are the result of thousands of years of activity; they are full of genetic codes that make them what they are. They want to grow and reproduce to continue life on this planet.